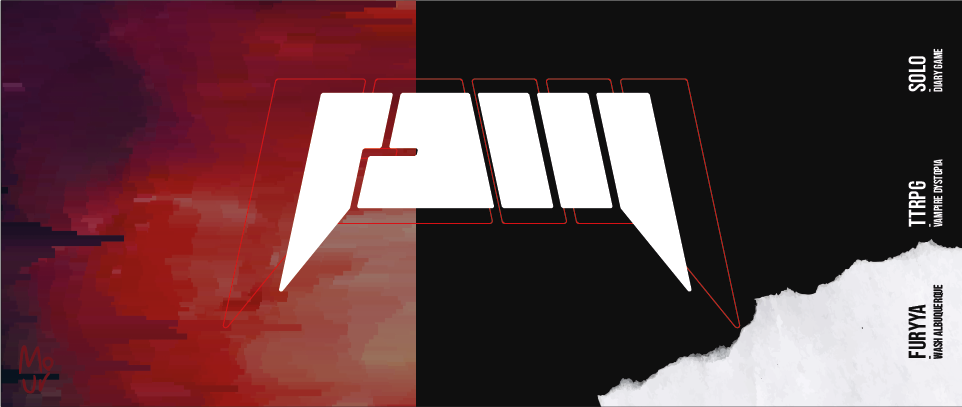 Furyya
Mour TTRPGs Funding 🔥
A solo journaling game about vampires and cyberpunk dystopia.

"I see euphoric flashes drunk on the ecstasy that coats Belona's oil and acid-rain-drenched streets, as careless, uncertain steps take me to the inevitable catatonic end. The murmurs morph into intense, unrecognizable noise while I feel the blood ooze out of my ears and nose and the figures, human and not, likewise turn distorted and crimson when my eyes overflow with life's fluid.
I fall into a puddle, unafraid to drown, because what I knew as reality is already draining away. The poison still gushes from the jugular; it infiltrates and dominates my red blood cells, thickening my blood and turning it into something else. Bit by bit what was cadaver-cold heats up exponentially.
Dead no longer.
I sigh again, my savage self running rampant, and now I recognize the hidden tormentors in the shadows, prowling, closing in and hunting their merely mortal prey."
Furyya is a solo survival journaling game set in the city of Belona, in a dystopian future where creatures of the night adapt to technology to survive.
In these filthy streets, teeming with flesh-and-bone bodies, as well as metal and hybrids, you are part of The Calamity—an ancient clan of powerful vampires—and must survive challenges such as war, assassination contracts, theft, hunters, corporations, religious zealots, domineering gangs and other clans.

You'll narrate your story through logs, in a terminal connected to the Belona matrix network.
Careful not to get hacked!
What you find here?
One-shot adventure in pamphlet format.
A great universe of possibilities in a context that mixes classic and dystopia, and that can be played solo, but also easily adapted for your favorite system or group.
A challenge system based on betting and rolling dice.
The possibility to inspire your ideas in an irreverent world, creating deep plots and developing your character.
Simple system to solve challanges and can be used for almost everything with a little bit of creativity.
Furrya is part of the RPGLatAm Collection, check to know more about LatAm games & designers. Project by Masdon Studio.
Timeline

Update #1 - 11/01 Full version 1.0 available in English & Portuguese, also text versions.
Update #2 - Soon - Text revision and system improvement.
Update #3 - v1.4 available!
Update #5 - Final version w/ revision & pro translation
You can always check the devlog here and share you opinion and suggestion on topics.
You like adventure? :
Purchase
In order to download this game you must purchase it at or above the minimum price of $5 USD. You will get access to the following files:
furyya_book_of_fate_color(v1.5)[digital].pdf
1 MB
furyya_corebook_color(v1.5)[digital].pdf
2 MB
furyya_book_of_fate_color(v1.5)[printable].pdf
1 MB
furyya_corebook_color(v1.5)[printable].pdf
2 MB
furyya_low_ink(v1.5)[printable].pdf
1 MB
Get your free copy <3
Support this game at or above a special price point to receive something exclusive.
Get FREE community copy!
If you can't afford this game, feel free to claim a community copy. Get it, play it and come back to share your impressions =D Have fun & be safe!
26/09 ~ Plus 40 copies! Get your now
14/11 ~ Plus 20 copies!